Visa Policy Information
We are excited to host scholars, professionals, and enthusiasts from around the globe. If you're planning to attend BigDIA 2023 and are not a a Mainland China resident, you may need a visa. Here's what you need to know about the visa policy and exemptions.
Visa Requirements
Foreign nationals from most countries will require a visa to enter Mainland China. Please consult your nearest Chinese consulate or embassy to understand the specific visa requirements applicable to your country.
Visa-Free Entry Policy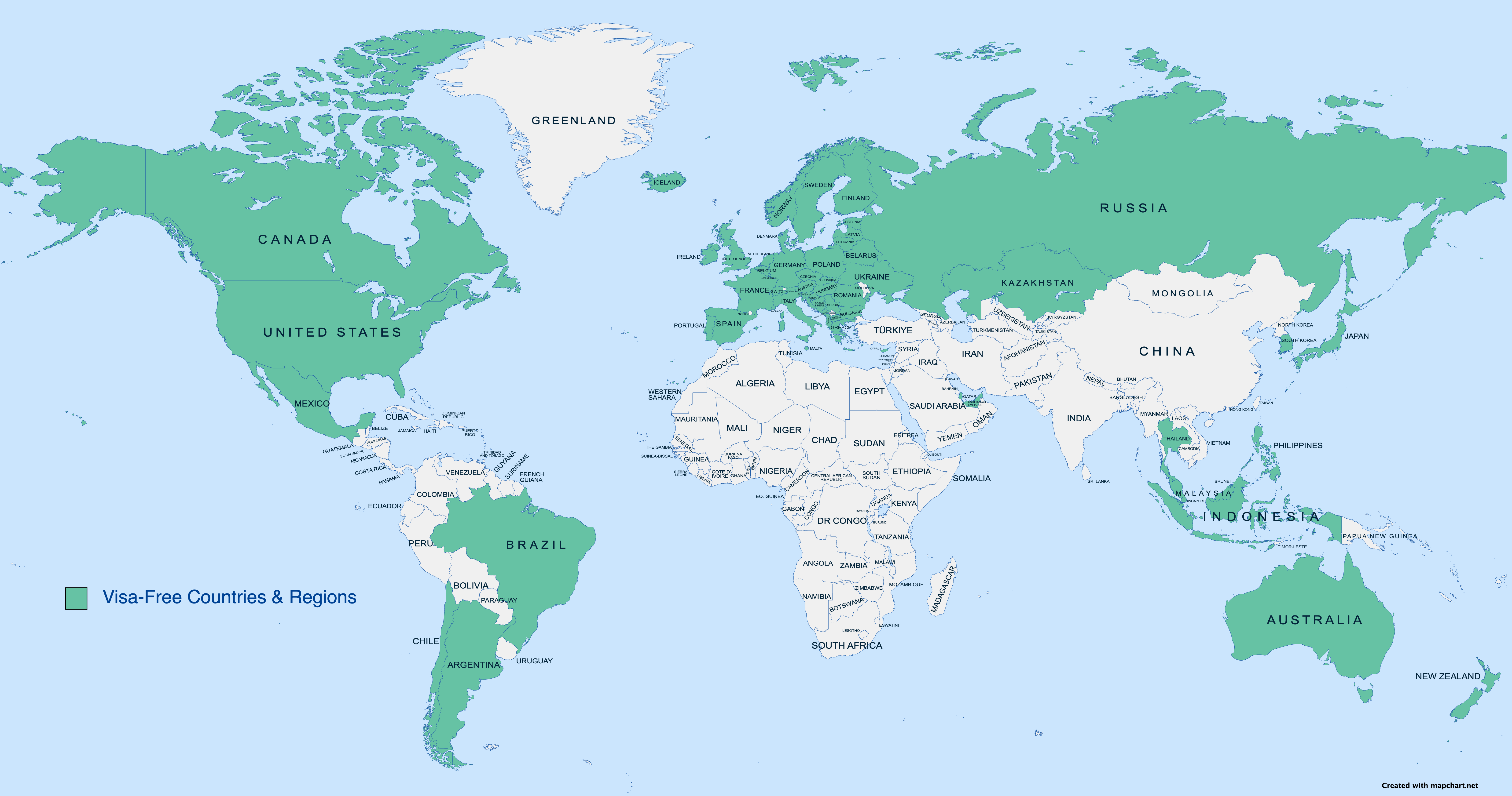 Good news! If you are a citizen of one of the following 59 countries, you can take advantage of the Visa-Free Entry Policy: (Above is a map highlighting countries that enjoy visa-free entry to Mainland China)
Russia, the UK, France, Germany, Norway, Ukraine, Italy, Austria, Finland, Holland, Denmark, Switzerland, Sweden, Spain, Belgium, Czech, Estonia, Greece, Hungary, Iceland, Latvia, Lithuania, Luxembourg, Malta, Poland, Portugal, Slovakia, Slovenia, Ireland, Cyprus, Bulgaria, Romania, Serbia, Croatia, Bosnia-Herzegovina, Montenegro, Macedonia, Albania, the United States, Canada, Brazil, Mexico, Argentina, Chile, Australia, New Zealand, South Korea, Japan, Singapore, Malaysia, Thailand, Kazakhstan, Philippines, Indonesia, Brunei, the United Arab Emirates, Qatar, Monaco, and Belarus.
Special Visa-Free Duration:
Up to 15 days: Brunei, Singapore, and Japan
Up to 30 days: United Arab Emirates and Serbia
For attendees from these countries, no advance visa arrangements are required. Just bring your passport and come!
Registration for the conference is on December 15th, with sessions on the 16th and 17th. Please make your own travel and accommodation arrangements.
Call for Papers is Available. For more details please click
HERE
.
Individual registration can be accessed via
this link
Information About How to Become a Sponsor is Available. For more details please click
HERE
.
Are you attending BigDIA 2023 from outside of Mainland China? Make sure to check our
Visa Policy
for important information on entry requirements and visa-free countries.
Paper Submission Deadline
Notification of Acceptance